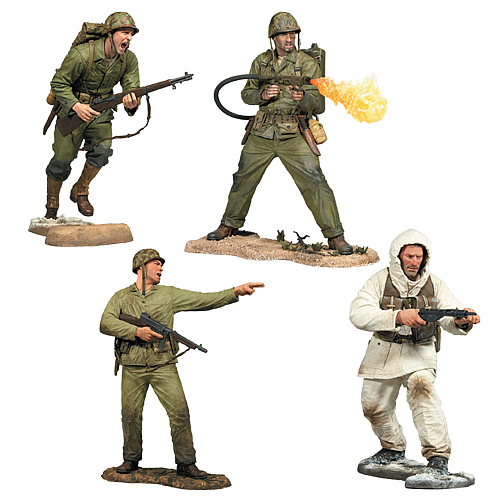 Call of Duty WWII Action Figure Set Description:
* Your duty to pick up these figures!
* Perfect for any Call of Duty or WWII history buff!
* Highly detailed and game-accurate figures!
This set of 4 figures contain the following (subject to change):
1x Marine Infantry (Battle of Peleliu)
1x Marine Corp with Flamethrower (Battle of Peleliu)
1x Marine Corp with machine gun (Battle of Okinawa)
1x British Spec Ops Soldier (Battle for the Roer Triangle)
The Call of Duty video game franchise continues to march on, but this time you've got the Action Figures to accompany you on the front line! These WWII-themed Action Figures feature different sculpts than previous Military releases. Each 6-inch scale figure will have 4-6 moving parts along with accurate uniforms, weaponry, and a themed display base.
Buy Your Own Private Army
Feed Shark