December 19, 2007
Happy Holidays, my friends!
Less than a week til Christmas and I've barely started shopping! How about the rest of you? I've got a few done and a little bit of time left. I hope.
Course, if anyone was looking for ME, there are a few things I wouldn't mind Santa sending my way. My Christmas wishes...
Hot Toys ALIENS Cpl. Dwayne Hicks 12" figure

Hasbro Star Wars Ralph McQuarrie Snowtrooper

Hasbro Star Wars Ralph McQuarrie Stormtrooper

Aoshima ALIENS Dropship and APC

Ultimate Soldier Street Guns 2 Weapon set

Ultimate Soldier Police Shotgun Weapon set

NECA Hannibal Lector V. 2 figure

Hasbro Marvel Legends 2 Packs Cannonball/Domino

Hasbro Marvel Legends 2 Packs Cable/Marvel Girl

A 1/1 scale M41-A Pulse Rifle from ALIENS

A 1/1 scale Sandman pistol from Logan's Run

Just a thought, no pressure.
I hope you all get what you want for the holidays.

AFTIMES HOLIDAY CONTEST
Speaking of getting what you want…With the help of Toygodd and the Prize Monkey, AFTimes is celebrating the Eight Nights of Chanukah and the Twelve Days of Christmas with excellent prizes for you, our readers! Each day brings you new ways to get your holiday prize. Some of the contests are easier than others but check out what the prizes are! You can get all the details HERE!

Happy Holidays from all of us here at AFTimes!
And a great thanks to those companies that helped us out with their donations for this great big contest!

Onto the questions!

*Name: Tawny Green
Q: Randy-I've been seeing so many different DC figure that are supposed to be coming from Mattel. Not the Batman ones, but which ones are coming out and when? I saw a Harley Quinn that looks sweet! Thx
A: Hi, Tawny. Yeah, 2008 is bringing a LOT of DC characters onto toy store shelves. Here's the latest info on what's coming and when:

DC UNIVERSE LINEUPS
Series 1 (Shipping NOW!)

Batman

Ertigan

Orion

Penquin

Red Tornado (+Variant)

Aquaman (+Variant)

Black Manta

Firestorm (+Variant)

Harley Quinn

Superman (Blue AND Red variants-evenly packed)

BAF-Gorilla Grodd

Series 3 (Shipping Summer 2008)

Deathstroke

Green Lantern-Hal Jordan

Nightwing

Robin

Sinestro

BAF-Solomon Grundy

Hope that helps, Tawny.

Name: Buddy G.
Q: Randino, my man! I've been collecting the cool SW two-packs that started coming out this year. I thought I had them all but see I'm missing #1. I took a look around and see that it was an Entertainment Earth EXCLUSIVE of the Crimson Empire boys Kir Kanos and Carnor Jax! They are long sold out so am I s.o.l or what? Thanxs.
A: Hey there, Buddy G. Well, I talked with ??? Man about this and he says the best you can do would be to custom one, since the figure is being reused for of the "Force Unleashed" figures coming in 2008.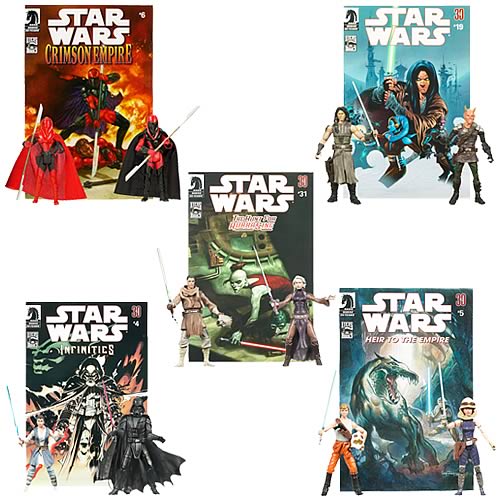 But I just checked out EE and noticed that they are showing a case assortment for EU "Case 3, Rev. 1" that is scheduled to have THREE of the Kir Kanos/Carnor Jax sets in it! These are due next month! You can read it HERE. So maybe the Force IS with you! Thanks.


Name: Xyphos
Q: Randy-what's the world on the Conan figures? I need to know by Crom!
A: Well, according to a recent blurb in Toyfare, The Conan movie figures are still moving along fine for 2008. Looks likely to be a series in late Spring, a second series in late Fall and a special con exclusive figure. Still not word on what the specifics are, but I believe that there are at least 4 different Conans! YEAH! I'll post more when I hear it, by Crom!

That's it for now. I'll see you again on Christmas Eve.

RANDY
---