Marvel Mighty Muggs Exclusive Thanos & Red Skull Figure Set Description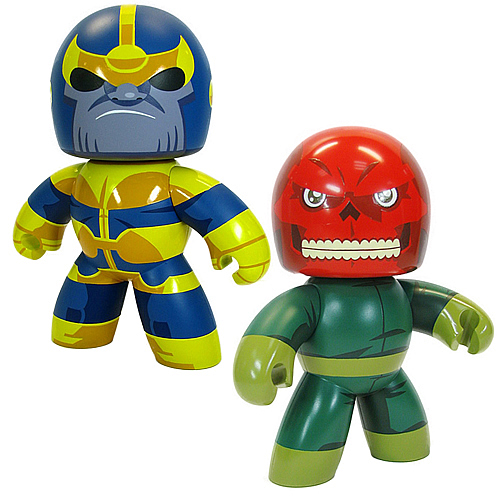 * A Diamond/Previews Exclusive!
* Chunky, edgy style.
* 100% recycled awesome!
Just the thing for play or display, these fun figures stand about 6-inches tall, are based on their galactic movie counterparts, and are made from 100% recycled awesome! Don't miss these distinctive, exclusive, Mighty Muggs vinyl figures in window-box packaging!
This set includes 2 individual figures (subject to change):
1x Thanos
1x Red Skull
In spite of appearing adorable, this hip version of Thanos, the Mad Titan, wants to bring death to the galaxy. The intergalactic warlord and insane mutant proudly flaunts his large character head and chunky body. And just so the Earth's villains don't feel left out, Red Skull rocks like nobody's business in a green jumpsuit. This former American industrialist has it in for Captain America… and probably you, as well! He may look cute, but don't turn your back on him. He's a threat to all of humanity!
They're sure to bring smiles to the faces of collectors and fans alike!
Exclusive Marvel Mighty Muggs!
Feed Shark