Feed Shark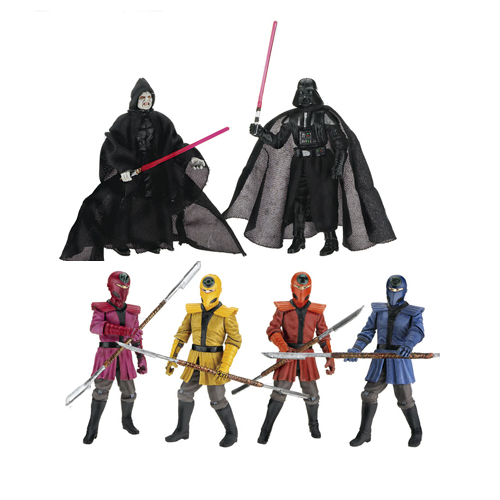 Star Wars Exclusive Crimson Empire Crucible Action Figures Description:
* A Diamond/Previews Exclusive!
* From the Crimson Empire comic series!
* Train the future of the Empire!!
A Previews Exclusive! Training the bodyguards for the galaxy's elite ruler is no easy task-- especially when he stops by to see how you're doing. This set of Action Figures brings the training of the Emperor's Royal Guard to life for the first time! These elite warriors were given intense training, specialized uniforms, and a unique insignia on their helmet-- and then they were instructed to fight to the death. Taken straight from the pages of Dark Horse Comics' Crimson Empire series, these guards-to-be are ready for anything! They're not afraid to kill for their leader and for the glory of his Empire, so don't get in their way-- you'd regret it!
This box set includes 6 Action Figures, including:
Emperor Palpatine with lightsaber
Darth Vader with lightsaber
Lemmet Tauk (purple) with battle staff
Kir Kanos (yellow) with battle staff
Alum Frost (red) with battle staff
Carnor Jax (blue) with battle staff
Train the Emperor's Bodyguards!